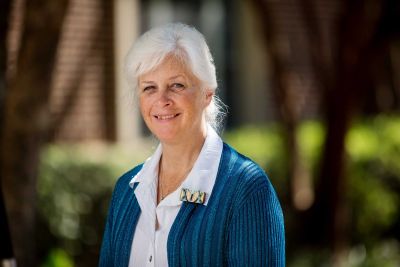 Dr. Kimberly Sharp, Dean
Welcome to the Mississippi College School of Nursing website. We are so excited to share with you the learning opportunities that are available through Mississippi College. Nestled in the historic centre of Clinton, Mississippi we are very proud of our beautiful campus and friendly community. Check out the many resources available for our on-campus and online programs, and please let us know if you would like to visit and see for yourself. I hope as you explore the online links that you will find the information you need.
A baccalaureate degree in nursing (BSN) is the preferred gateway for professional nursing practice and affords many opportunities for clinical practice, healthcare leadership, ongoing research and scholarship. We are eager to partner with you as you consider beginning a career in nursing or perhaps going on to extend your professional portfolio. The nursing shortage is pervasive in many states, is compounded by a shortage of nurse educators and advanced practice nurses. MC graduates are highly sought after by many agencies. All of our graduates who choose to pursue nursing employment have jobs, and most receive firm job offers prior to graduation.
Prospective students need to know that nursing is a very demanding and challenging discipline, requiring a strong work ethic and professional integrity. Twenty-first-century nurses must be committed to the pursuit of knowledge that improves healthcare outcomes for patients. Increased patient acuity and clinical practice demands require that nursing professionals work to the full scope of their nursing practice roles.
The School of Nursing is growing and we value our large (2000+) community of nursing alumni. Established in 1969 nursing had its first graduating class in 1973. The School of Nursing has nearly 50 years of history and is intrinsic to the mission and ministry of the college. Our goal is to help students graduate with confidence and competence and excel in patient care.
Is Mississippi College right for you? Look around online, give us a call or come and visit. We want to share our passion for using nursing as a ministry! Don't see exactly what you need…we have new program opportunities that are currently under development. We want MC to be the right place for you!